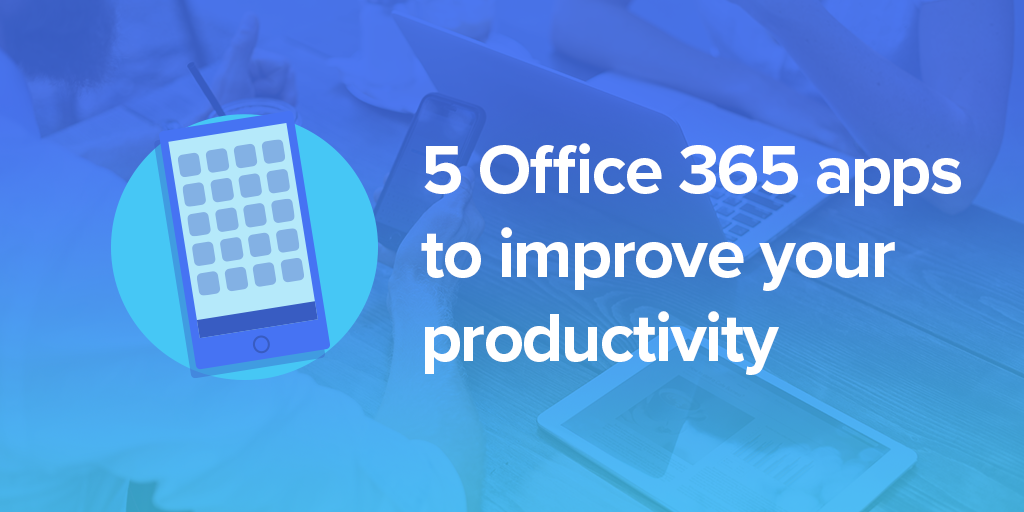 For businesses, there is more to Office 365 than meets the eye. A common misconception is that Office 365 is just the web versions of Office desktop (Word, Excel, PowerPoint). In reality, it's so much more.
Office 365 is a formidable online platform for businesses – formidable because it includes so many powerful productivity apps, all for a low monthly cost.
Recently, Microsoft announced 3 new apps it is adding to its Office 365 Business Premium plan – Connections, Listings and Invoicing. Designed to help streamline processes and boost growth in your business, these are just 3 of many apps now available through Office 365's business plans.
We thought we'd take a look at 5 productivity apps you can get right now through Office 365 business plans (or for free!).
Teams is Microsoft's answer to Slack, a chat-based workspace for businesses. For teams on Office 365, you can see content and chat history in public or private chat windows. Easily share emails, documents and images to your team, or schedule ad-hoc 1-on-1 or group calls through the app. Everything is secure and customisable for your business.
Available through Office 365 Business Premium and Business Essentials.
Need to create a survey, quiz or poll? Microsoft Forms is a quick and easy way to whip one up. Use surveys to collect customer feedback, measure employee satisfaction or to organise a team event. Themes, question branching and visualised data reports are also available.
Available through Office 365 Business plans.
Planner makes teamwork easy – use it to create new project plans, invite team mates, assign tasks and update statuses. It's simple to share files and chat about progress, all while giving you a layer of transparency across a group project.
Available through Office 365 Business plans.
Whether you're an obsessive note taker or occasional napkin scribbler, OneNote is a useful way to capture every thought, business idea or meeting minutes. It's your digital notebook and then some. Type, write, draw, add Calendar invites or skype links – you can access and update all of your content from any device. Perfect for businesses looking for a quick and easy way to be just a little bit more paperless in the office.
Available through Office 365 Business plans.
Sway is one of those little productivity apps that can pack a big punch. Through it you can create and share interactive reports, presentations or newsletters. Easily customise the look and flow of your presentation, and add videos or other media that people can click on. If you want to add a bit of 'oomph' to an otherwise bland presentation in a client or team meeting, then Sway is worth a try.
Available through Office 365 Business plans.
A couple of special mentions:
Microsoft Flow allows you to automate tasks and workflows between 100+ services, including Outlook, Excel, Microsoft Forms, and Docusign. Simple to set up, there are a number of templates you can use to help you streamline HR onboarding or marketing.
Available for free, connect to other apps in Office 365.
One of the most powerful things you can do to grow your business is to understand your data. Power BI is a suite of business analytics tools that deliver insights across your business. With it you can connect to your data sources and produce easily consumable reports for web and mobile.
Available for free or through Office 365 Business plans.
Office 365 is also a great place to manage your business files. If you want to know more about SharePoint Online and how SuiteFiles fits over the top to make it even easier to work from the cloud, have a chat to us.