Xero's Practice Manager has been integrated with a few cloud based document management systems but none as deep and rich as what we've just released with SuiteFiles. SuiteFiles is now the most feature rich cloud based document management system available for accountants. If you want your practice to be cloud based then this is the system you must have. Here's why...
Easily Access Your Files
With SuiteFiles all of your documents are stored in Microsoft's Office 365 cloud platform. But one of the downfalls of the cloud is the need to have many browser tabs open to access all of the different systems you use. Now all of your client documents stored in SuiteFiles can be accessed directly through the Xero Practice Manager and WorkflowMax.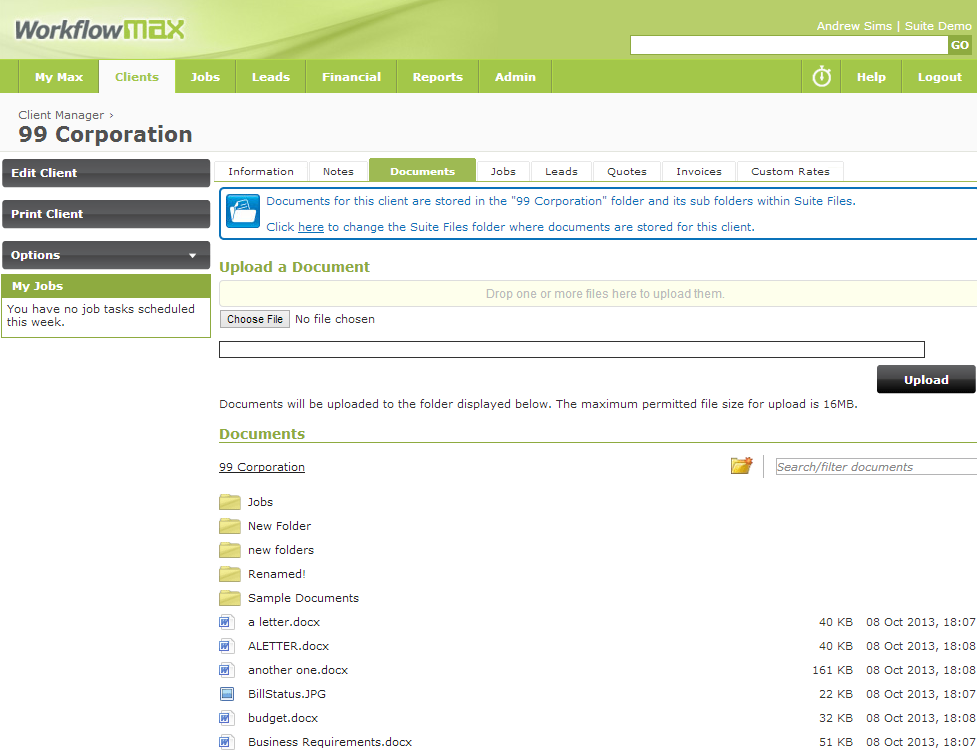 And when you create a new prospect or client in Xero Practice Manager / WorkflowMax the act of uploading a document creates a client folder in SuiteFiles and saves that document into it.
Prepopulate Your Document Templates With Client Data
All businesses have a number of standard documents that they reuse and send to clients - engagement letters, terms of service, general communications, etc. Using the client data in Practice Manager you can now create and prepopulate your own customised documents. This not only saves time looking up the information but ensures that you minimise mistakes by automating the process of data entry and saving the document to the correct client folder.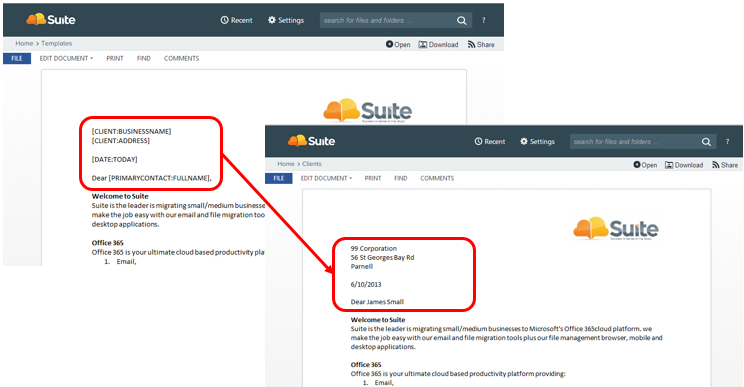 Sharing Documents With Clients
Once a document has been created for a client you'll want to share it with them. This process is again automated in SuiteFiles. Simply click the Share icon and start typing the recipient's name. The correct email address will autocomplete and display for you to choose. Then click Share and the recipient will receive an email with a link to download the document.
Get Modern
So what are you waiting for? Your accounting practice needs to be a Modern Practice otherwise you'll find yourself behind the eight-ball very soon. With SuiteFiles you're getting the integration with Xero that you can't get with any other file system. Give us a call on (04) 550 2341** or send us an email to modernpractice@thefullsuite.com** and let's get things moving for you.
You can see all the details about why SuiteFiles is the best file management system for accountants here.
** Update - This number and email are no longer in use. To contact SuiteFiles about our integrations please get in touch via hello@suitefiles.com